Getting it out...
There are two ways of getting your mixes out of MixTape and onto something else: The usual version and the purists version...
Publishing your Mix
On the bottom bar of the MixTape window there's a button that says "Publish". It produces this...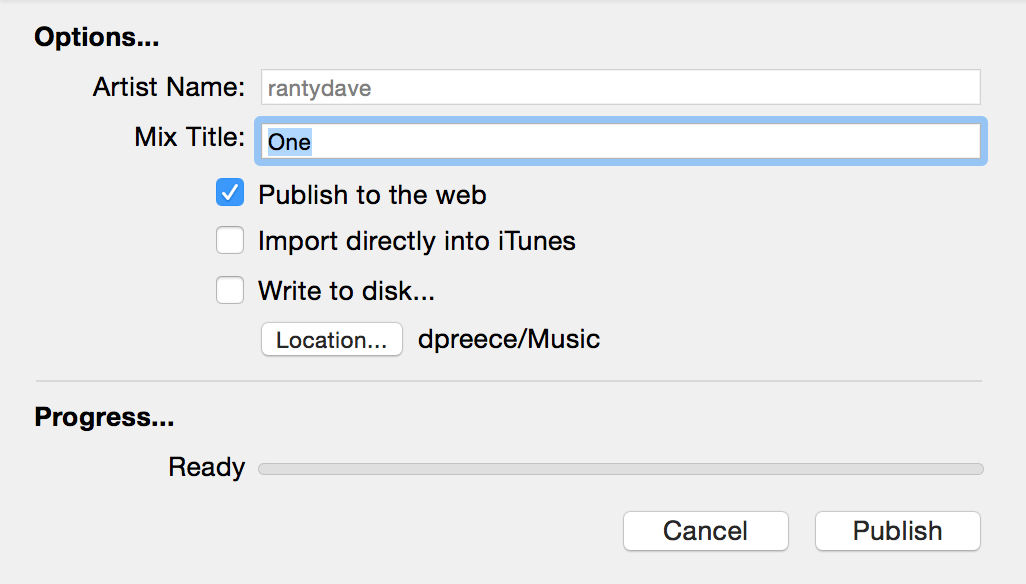 By default the exported mix will be at 128kbit/sec in the AAC format - the bitrate can be raised in the preferences if needed. Note as well the artist name, you get to set this exactly once so choose carefully.
Other than that it's largely self explanatory...
Publish to the web creates a hosted mix on Atomic Droplet's servers (free) and opens the page for you.
Import into iTunes works even if iTunes is not running.
Write to disk can have it's location chosen but will by default write into your "Music" directory.
Control over which mixes are published is also built in to MixTape. Select "File, Manage Published Mixes" and a list of your published mixes will be presented. From here (by right clicking, control-clicking or two finger clicking) you can open a mix in your browser, rename the mix or delete it entirely.
Exporting your mix losslessly
For those with more demanding sonic needs, MixTape can export directly from its internal renderer (in 32 bit floating point). Select "File, Export Lossless..." and you'll be able to choose a sample rate (44.1, 48, 96, 192 KHz) and whether the export is in the form of a WAV file or Apple Lossless (.m4a).